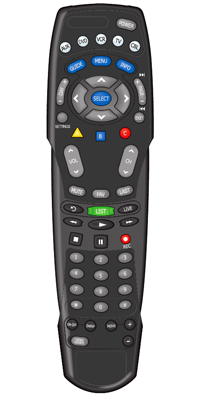 How to program Verizon Fios Scientific-Atlanta AT8850™ Remote:
Turn on your TV and the FiOS TV Set-Top Box.
Press and hold Select and  TV button until all of the mode buttons blink twice.
Enter the remote code for your TV from code list below.
Point the remote at the TV and press the Power button. If your TV turned off, you have successfully programmed your remote. If TV did not turn of repeat steps 2-4 with next code for your TV brand.
Top TV Brands
| | |
| --- | --- |
| Samsung | 0057, 0087, 0205, 0729, 0793, 0839, 0841, 1087, 3004, 3005, 3008, 3022, 3025, 3026, 3058, 3094, 3127, 3128, 3136, 3137, 3148, 3156, 3172, 3205 |
| LG | 0205, 0727, 0883, 1205, 1292, 3004, 3145 |
| Sony | 0027, 0861, 1127, 3002, 3050, 3054, 3069, 3077, 3103, 3116, 3123, 3126, 3143, 3150, 3151, 3155, 3178, 3198 |
| Vizio | 0891, 0912, 1292, 1783, 3145 |
All TV Brands
| | |
| --- | --- |
| Abex | 3026 |
| Admiral | 0120, 0490, 3001, 3027 |
| Advent | 0788, 0810, 0842, 0844, 0869 |
| Adventura | 3028 |
| Aiko | 0119, 3009 |
| Aiwa | 3195 |
| Akai | 0057, 0087, 0699, 0729, 0839, 3002, 3182, 3219, 3247, 3248 |
| Albatron | 0727, 0870 |
| Alleron | 3013 |
| America Action | 0207 |
| Ampro | 0778 |
| Amtron | 3012 |
| Anam | 0207 |
| Anam National | 3003, 3012 |
| AOC | 0057, 0205, 3004, 3005 |
| Apex | 3041, 3117, 3189 |
| Apex Digital | 0183, 0775, 0792, 0794, 0906, 3183 |
| Audiovox | 0119, 0207, 0478, 0650, 0829, 0902, 3012 |
| Aventura | 0198 |
| Belcor | 0205 |
| Bell & Howell | 0181, 3001, 3015 |
| BenQ | 1059 |
| Bradford | 0207, 3012 |
| Brillian | 3227, 3228, 3230 |
| Brockwood | 0205 |
| Broksonic | 0207, 0263, 0490, 3182, 3204 |
| Candle | 0057, 0205, 3005, 3006, 3028 |
| Carnivale | 0057 |
| Carver | 0081 |
| Celebrity | 0027, 3002 |
| Celera | 0792 |
| Centurion | 3007 |
| Changhong | 0792 |
| Citizen | 0057, 0087, 0119, 0205, 3005, 3006, 3009, 3012, 3022, 3025, 3203 |
| Clarion | 0207 |
| Colortyme | 0205, 3005 |
| Colt | 3199 |
| Commercial Solutions | 0074, 1474 |
| Concerto | 0205, 3005 |
| Contec | 0207 |
| Contec/Cony | 3008, 3012 |
| Craig | 0207, 3012 |
| Crosley | 0081 |
| Crown | 0207, 3012, 3018 |
| Curtis Mathes | 0057, 0074, 0081, 0087, 0120, 0172, 0181, 0193, 0205, 0478, 0493, 0729, 1174, 1374, 3000, 3005, 3015, 3022, 3025 |
| CXC | 0207, 3012 |
| Daewoo | 0119, 0205, 0478, 0650, 0688, 0699, 1688, 3004, 3005, 3009, 3025, 3081, 3100, 3153, 3203 |
| Daytron | 0205, 3005, 3025 |
| Dell | 1107, 1205 |
| Denon | 0172 |
| Dimensia | 3000 |
| Dumont | 0044, 0205, 3024 |
| Durabrand | 0198, 0205, 0207, 0490, 1061 |
| Dwin | 0120, 0747, 0801 |
| Dynex | 0490 |
| Electroband | 0027, 3002 |
| Electrograph | 1782 |
| Electrohome | 0205, 3002, 3003, 3005 |
| Element | 3264 |
| Emerson | 0181, 0198, 0205, 0207, 0263, 0490, 0650, 3005, 3008, 3010, 3011, 3012, 3013, 3015, 3025, 3031, 3186, 3203, 3204, 3218 |
| Envision | 0057, 0205, 0840, 3005 |
| Epson | 0860, 0867, 3144 |
| ESA | 0198, 0839 |
| Fisher | 0181, 3014, 3015 |
| Fujitsu | 0710, 0836, 0880, 3013, 3159, 3160, 3162, 3163, 3164 |
| Funai | 0198, 0207, 3012, 3013, 3198 |
| Futuretech | 0207, 3012 |
| Gateway | 1782, 1783 |
| GE | 0074, 0078, 0205, 0478, 1174, 1374, 1474, 3000, 3003, 3005, 3016, 3017, 3037, 3124, 3200, 3201, 3208 |
| Gibralter | 0044, 0057, 0205, 3024 |
| Go Video | 0913 |
| GoldStar | 0057, 0205, 3004, 3005, 3008, 3025, 3026, 3202 |
| Grunpy | 0207, 3012, 3013 |
| Haier | 1061 |
| Hallmark | 0205, 3005 |
| Harley Davidson | 3198 |
| Harman Kardon | 0081 |
| Harvard | 0180, 0207, 2301 |
| Havermy | 0120 |
| Helios | 0892 |
| Hello Kitty | 0478 |
| Hisense | 0775 |
| Hitachi | 0172, 0205, 1172, 3005, 3008, 3039, 3044, 3180, 3198 |
| HP | 3253, 3254 |
| Hyundai | 0876 |
| IMA | 3012 |
| Infinity | 0081, 3018 |
| InFocus | 3255, 3256, 3257 |
| Insignia | 0198, 0490 |
| Inteq | 0044 |
| Janeil | 3028 |
| JBL | 0081, 3018 |
| JC Penney | 0205, 3000, 3004, 3005, 3006, 3016, 3017, 3022, 3025, 3026 |
| JCB | 0027, 3002 |
| Jensen | 0205, 0788, 0842, 0844, 3005 |
| JVC | 0080, 0758, 1280, 3008, 3017, 3019, 3070, 3096, 3097, 3101, 3134, 3174, 3175 |
| Kawasho | 0205, 3002, 3005 |
| KEC | 0207 |
| Kenwood | 0057, 0205, 3005 |
| KLH | 0792, 0794 |
| Kloss Novabeam | 3012, 3028 |
| Konka | 3032, 3238, 3239, 3240, 3241, 3242, 3243, 3244 |
| KTV | 0057, 0207, 3012, 3025 |
| LG | 0205, 0727, 0883, 1205, 1292, 3004, 3145 |
| Lloyd's | 3198 |
| Loewe | 3018 |
| Logik | 3001 |
| Luxman | 0205, 3005 |
| LXI | 0074, 0081, 0181, 0183, 0205, 3000, 3005, 3015, 3018 |
| Magnasonic | 3203 |
| Magnavox | 0057, 0081, 0205, 0733, 0829, 1281, 1481, 3005, 3006, 3018, 3046, 3047, 3056, 3098, 3102, 3154, 3198, 3212, 3218 |
| Magnin | 3200 |
| Majestic | 3001 |
| Marantz | 0057, 0081, 0205, 0731, 0882, 1181, 3005, 3018 |
| Matsushita | 0277, 0677 |
| Maxent | 1782 |
| Megapower | 0727 |
| Megatron | 0172, 0205, 3005 |
| Memorex | 0177, 0181, 0205, 0490, 3001, 3004, 3005, 3015, 3105, 3106, 3197, 3202 |
| MGA | 0057, 0177, 0205, 3004, 3005, 3200 |
| Midland | 0044, 0074, 0078, 3017, 3024, 3025, 3026 |
| Minutz | 3016 |
| Mitsubishi | 0120, 0177, 0205, 0863, 0895, 1277, 3004, 3005, 3075, 3091, 3107, 3109, 3111, 3170, 3176, 3201 |
| Monivision | 0727, 0870 |
| Montgomery Ward | 3001 |
| Motorola | 0120, 3003, 3027 |
| MTC | 0057, 0087, 0205, 3004, 3005, 3022 |
| Multitech | 0207, 3012 |
| Multivision | 3020 |
| NAD | 0183, 0205, 0893, 3005, 3029 |
| NEC | 0057, 0205, 0524, 0909, 1731, 3003, 3004, 3005 |
| NetTV | 1782 |
| Nikko | 0057, 0119, 0205, 3005, 3009 |
| Norcent | 0775, 0851 |
| NTC | 0119, 3009 |
| Olevia | 3131, 3226, 3231, 3232, 3233 |
| Onwa | 0207, 3012 |
| Optimus | 0181, 0193, 0277, 0677, 3029, 3197 |
| Optoma | 0914 |
| Optonica | 0120, 3021, 3027 |
| Orion | 0263, 0490, 1490, 3011, 3031, 3090, 3204 |
| Panasonic | 0078, 0277, 0677, 1437, 3003, 3017, 3018, 3036, 3038, 3049, 3057, 3061, 3063, 3065, 3068, 3079, 3086, 3092, 3104, 3110, 3112, 3113, 3122, 3129, 3130, 3133, 3135, 3149, 3152, 3177, 3185, 3191, 3193, 3194, 3197, 3209, 3215, 3217, 3223 |
| Panavision | 3216 |
| Penney | 0057, 0074, 0078, 0087, 0183, 0205, 1374, 3200, 3202 |
| Philco | 0057, 0081, 0205, 3003, 3004, 3005, 3006, 3008, 3018, 3106 |
| Philips | 0081, 0205, 0717, 1181, 1481, 3003, 3006, 3008, 3018, 3040, 3043, 3047, 3060, 3067, 3071, 3084, 3085, 3095, 3114, 3118, 3192, 3212 |
| Philips Magnavox | 3040, 3046, 3047, 3067, 3071, 3085, 3095, 3102 |
| Pilot | 0057, 0205, 3025 |
| Pioneer | 0193, 0205, 0706, 0893, 3005, 3029, 3108, 3115, 3157, 3165, 3179 |
| Polaroid | 0792, 0892, 3140, 3264 |
| Portland | 0119, 0205, 3004, 3005, 3009, 3025 |
| Price Club | 3022 |
| Prima | 0788, 0810, 0842, 0844 |
| Princeton | 0727, 0744 |
| Prism | 0078, 3017 |
| Proscan | 0074, 1374, 1474, 3000, 3124 |
| Proton | 0205, 0493, 3005, 3008 |
| Proview | 3224, 3225, 3234 |
| Pulsar | 0044, 0205, 3024 |
| Pye | 3258, 3259, 3260, 3261, 3262, 3263 |
| Quasar | 0078, 0277, 0677, 3003, 3017, 3197, 3209 |
| Radio Shack | 3015 |
| Radio Shack/Realistic | 0205, 3000, 3005, 3008, 3012, 3015, 3021, 3025, 3026 |
| RadioShack | 0057, 0074, 0181, 0205, 0207, 3198 |
| RCA | 0074, 0117, 0205, 0706, 1074, 1174, 1274, 1374, 1474, 1574, 3000, 3003, 3004, 3005, 3034, 3045, 3083, 3088, 3119, 3124, 3181, 3184, 3190, 3200, 3201, 3211, 3213 |
| Realistic | 0057, 0181, 0205, 0207, 3015 |
| Runco | 0044, 0057, 0524, 0630, 3024 |
| Sampo | 0057, 0205, 1782, 3005, 3025, 3026 |
| Samsung | 0057, 0087, 0205, 0729, 0793, 0839, 0841, 1087, 3004, 3005, 3008, 3022, 3025, 3026, 3058, 3094, 3127, 3128, 3136, 3137, 3148, 3156, 3172, 3205 |
| Sansui | 0490, 3031, 3048, 3090, 3182, 3198, 3204 |
| Sanyo | 0181, 0205, 0826, 0920, 3014, 3015, 3200 |
| Sceptre | 0027, 1127 |
| Scotch | 0205, 3005 |
| Scott | 0205, 0207, 0263, 3005, 3008, 3011, 3012, 3013, 3251 |
| Sears | 0074, 0081, 0181, 0183, 0198, 0205, 3000, 3005, 3013, 3014, 3015, 3019, 3030, 3198, 3202 |
| Sharp | 0120, 0205, 0518, 0715, 0716, 0878, 3005, 3008, 3021, 3025, 3027, 3073, 3121, 3125, 3132, 3138, 3142, 3206, 3222 |
| Sheng Chia | 0120 |
| Shogun | 0205 |
| Signature | 3001 |
| SIM2 Multimedia | 3265 |
| Simpson | 3006 |
| Sony | 0027, 0861, 1127, 3002, 3050, 3054, 3069, 3077, 3103, 3116, 3123, 3126, 3143, 3150, 3151, 3155, 3178, 3198 |
| Soundesign | 0205, 0207, 3005, 3006, 3012, 3013 |
| Squareview | 0198, 3030 |
| SSS | 0205, 0207, 3012 |
| Starlite | 0207, 3012 |
| Studio Experience | 0870 |
| Superscan | 0120, 0891, 3218 |
| Supre-Macy | 3028 |
| Supreme | 0027, 3002 |
| SVA | 0775, 0892 |
| Sylvania | 0057, 0081, 0198, 0205, 3005, 3006, 3018, 3042, 3082, 3095, 3099, 3105, 3139, 3161, 3186, 3192, 3196, 3210, 3218, 3221, 3229, 3235, 3236, 3237, 3245, 3246 |
| Symphonic | 0198, 0207, 3010, 3012, 3030, 3064, 3198 |
| Syntax | 3131, 3231, 3232, 3233 |
| Tandy | 0120, 3027 |
| Tatung | 1783, 3003 |
| Technics | 0078, 0277, 3017 |
| Techview | 0874 |
| Techwood | 0078, 0205, 3005, 3017 |
| Teknika | 0081, 0087, 0119, 0177, 0205, 0207, 3001, 3004, 3005, 3006, 3008, 3009, 3012, 3013, 3022, 3025 |
| Telecaption | 3023 |
| Telefunken | 0729 |
| Thomas | 3198 |
| TMK | 0205, 3005 |
| TNCi | 0044 |
| Toshiba | 0087, 0181, 0183, 0677, 0859, 0872, 1172, 1183, 1283, 1292, 1383, 1683, 1731, 3015, 3022, 3023, 3051, 3052, 3053, 3055, 3059, 3062, 3066, 3072, 3074, 3078, 3080, 3087, 3089, 3093, 3147, 3167, 3168, 3169, 3171, 3173, 3182, 3187, 3188, 3207, 3214, 3220 |
| Totevision | 3025 |
| TVS | 0490 |
| Universal | 3016 |
| V Inc. | 0912 |
| Vector Research | 0057 |
| Victor | 0080, 3019 |
| Vidikron | 0081 |
| Vidtech | 0205, 3004, 3005 |
| Viewsonic | 0081, 0884, 0891, 0912, 1782, 3141, 3154 |
| Viking | 3028 |
| Viore | 3252 |
| Vizio | 0891, 0912, 1292, 1783, 3145 |
| Wards | 0057, 0081, 0205, 0893, 1183, 3000, 3001, 3004, 3005, 3010, 3013, 3016, 3018, 3021 |
| Waycon | 0183 |
| Westinghouse | 0027, 0478, 0912, 0916 |
| White Westinghouse | 0490, 0650 |
| Yamaha | 0057, 0205, 0796, 0860, 0866, 3004, 3005 |
| Zenith | 0044, 0119, 0205, 0490, 1292, 3001, 3024, 3033, 3035, 3076, 3120, 3146, 3158, 3166, 3198, 3204 |