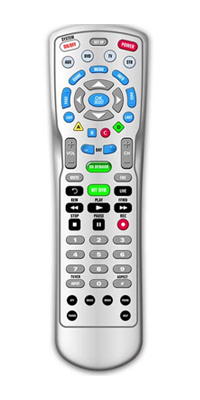 How to program Charter Universal Remote UR4U-MDVR-CHD2 ™:
1. Turn on your TV
Press the TV button  and OK/SEL button simultaneously for 3 seconds. The Component LED will light for 30 seconds indicating the unit is ready to be programmed.
Use the Setup Codes below to locate the type of device and brand name and then enter the first five-digit code for your device.  If the 3-digit code number you just entered is correct, TV will turn Off. If it did not turn Off, continue entering code numbers listed for that brand until TV turns Off.
NOTE: If the selected mode key emits a long blink, the entry is invalid. Repeat steps 2 through 3 and try entering the same code again.
Press TV button one more time. The TV LED light will blink twice to confirm that the code was successfully stored.
Top TV Brands
| | |
| --- | --- |
| Samsung | 258 050 089 105 228 229 363 333 |
| LG | 363 102 106 112 569 |
| Sony | 001 185 085 |
| Vizio | 386 387 |
All TV Brands
| | |
| --- | --- |
| ABEX | 025 |
| ADMIRAL | 072 251 333 |
| ADVENT | 247 388 |
| ADVENTURA | 002 |
| AIKO | 103 |
| ALERON | 028 |
| AKAI | 197 146 248 404 405 473 475 387 |
| A MARK | 112 |
| AMERICA ACTION | 043 |
| AMPRO | 167 073 |
| AMSTRAD | 052 |
| ANAM | 043 054 056 080 112 |
| AOC | 197 112 058 363 |
| APEX | 572 |
| APEX DIGITAL | 006 |
| AQUAVISION | 573 574 |
| ASTAR | 477 |
| AUDIOVOX | 076 454 388 |
| AVION | 441 |
| BELCOR | 363 |
| BELL&HOWELL | 072 333 |
| BRADFORD | 043 |
| BROKSONIC | 238 |
| BROCKWOOD | 363 |
| CAIRN | 201 |
| CANDLE | 197 002 003 363 |
| CAPEHART | 058 |
| CELEBRITY | 001 |
| CENTURION | 197 |
| CETRONIC | 043 |
| CITIZEN | 197 002 003 043 103 363 258 |
| CLARION | 043 |
| CLASSIC | 043 |
| CLP CLASSIC | 333 |
| COLORTYME | 197 363 |
| CONCIERGE | 073 |
| CONCERTO | 363 |
| CONTEC | 043 050 051 |
| CORNEA | 363 |
| CRAIG | 043 054 |
| CROSLEY | 164 |
| CROWN | 043 |
| CURTIS MATHES | 197 363 258 |
| CXC | 043 |
| DAEWOO | 016 043 044 076 103 363 |
| DAYTRON | 363 |
| DELL | 320 319 363 |
| DIGITAL PROJECTION | 570 |
| DIMENSIA | 333 |
| DREAMVISION | 235 |
| DUKANE | 025 011 |
| DUMONT | 073 363 |
| DURABRAND | 096 |
| DWIN | 177 257 |
| DYNASTY | 043 |
| DYNATECH | 062 |
| DYNEX | 400 |
| EIKI | 187 |
| ELECTROBAND | 001 |
| ELECTROGRAPH | 466 |
| ELECTROHOME | 024 076 |
| ELEKTRA | 072 |
| ELEMENT | 363 494 |
| EMERSON | 028 048 043 155 005 197 047 050 051 076 096 151 153 |
| | 363 514 |
| ENVISION | 197 363 |
| EPSON | 324 590 |
| ESA | 387 |
| FISHER | 007 057 |
| FUJITSU | 246 198 346 |
| FUNAI | 028 043 052 |
| FUTURETECH | 043 |
| GATEWAY | 242 268 |
| GE | 144 165 073 197 008 009 034 056 074 130 155 363 333 |
| GEM | 387 |
| GIBRALTER | 073 363 |
| GOLDSTAR | 102 106 112 363 |
| GRUNPY | 028 043 |
| HAIER | 363 501 |
| HALL MARK | 363 |
| HANNSPREE | 381 |
| HARLEY DAVIDSON | 028 |
| HARVARD | 043 |
| HAVERMY | 081 |
| HELLO KITTY | 076 |
| HIMITSU | 043 |
| HISENSE | 419 442 |
| HITACHI | 011 007 009 010 012 023 075 158 072 363 587 |
| HP | 378 316 327 421 |
| HUMAX | 518 |
| HYUNDAI | 337 338 |
| ILO | 472 400 |
| INFINITY | 164 |
| INFOCUS | 333 547 548 470 |
| INSIGNIA | 350 400 052 164 403 454 457 |
| INTEQ | 073 |
| JANEIL | 002 |
| JBL | 164 |
| JCB | 001 |
| JCPENNEY | 024 197 008 009 030 065 363 258 333 |
| JENSEN | 013 |
| JVC | 038 034 001 083 210 240 406 |
| KAWASHO | 001 197 363 |
| KEC | 043 |
| KENWOOD | 197 001 |
| KLEGG | 466 |
| KLOSS | 002 059 |
| KONKA | 457 |
| KREISEN | 530 |
| KTV | 043 197 |
| KURAZAI | 072 |
| LG | 363 102 106 112 569 |
| LODGENET | 072 |
| LOEWE | 164 |
| LOGIK | 072 |
| LUXMAN | 363 |
| LXI | 007 138 052 164 251 333 |
| MAGNAVOX | 164 059 197 003 060 061 063 064 022 094 226 390 363 |
| | 467 431 333 |
| MAJESTIC | 072 333 |
| MARANTZ | 197 164 272 562 584 |
| MATSUI | 164 |
| MATSUSHITA | 080 |
| MAXENT | 242 |
| MEGATRON | 197 011 363 |
| MEMOREX | 007 072 363 |
| MGA | 197 024 028 042 363 |
| MIDLAND | 073 333 |
| MINTEK | 362 |
| MINUTZ | 008 |
| MITSUBISHI | 124 109 024 028 040 042 146 191 363 |
| MONTGOMERY WARD | 072 333 |
| MOTOROLA | 081 |
| MTC | 197 062 363 258 |
| MULTITECH | 043 |
| NAD | 138 025 |
| NEC | 272 130 134 197 040 016 024 056 019 237 262 |
| NET TV | 242 |
| NIKEI | 043 |
| NIKKO | 197 363 |
| NIKO | 527 |
| NORCENT | 390 |
| NTC | 103 |
| NUVISION | 351 567 |
| OLEVIA | 432 363 144 333 |
| ONKING | 043 |
| ONWA | 043 |
| OPTIMUS | 025 |
| OPTONICA | 019 251 |
| OPTOMA | 265 270 |
| ORION | 096 |
| PANASONIC | 080 034 056 164 208 552 |
| PHILCO | 197 003 059 060 064 164 024 056 063 363 |
| PHILIPS | 164 005 093 038 197 003 059 206 431 363 333 594 |
| PILOT | 363 |
| PIONEER | 234 135 025 197 018 023 374 393 272 363 |
| POLAROID | 388 328 353 354 355 356 494 387 505 506 508 |
| PORTLAND | 363 |
| PRISM | 034 |
| PROSCAN | 144 165 167 333 |
| PROTON | 112 058 171 172 193 363 528 |
| PROTRON | 392 398 498 499 500 |
| PROVIEW | 494 |
| PROX | 572 |
| PULSAR | 073 363 |
| QUASAR | 034 056 |
| RADIO SHACK | 019 043 363 |
| RCA | 333 165 065 144 197 024 056 152 023 074 363 588 |
| REALISTIC | 007 019 043 047 |
| REVOLUTION HD | 466 |
| RUNCO | 072 169 178 179 180 181 182 073 395 416 |
| SAMPO | 197 058 242 363 |
| SAMSUNG | 258 050 089 105 228 229 363 333 |
| SAMSUX | 197 |
| SANSEI | 076 |
| SANSUI | 096 400 |
| SANYO | 007 020 053 057 082 187 |
| SCEPTRE | 276 |
| SCOTCH | 197 363 |
| SCOTT | 028 043 048 363 497 |
| SEARS | 138 030 007 028 057 094 082 165 363 333 |
| SELECO | 189 200 205 011 |
| SHARP | 251 019 014 028 029 022 175 363 |
| SHENG CHIA | 081 |
| SHERWOOD | 349 |
| SHOGUN | 363 |
| SIGNATURE | 072 |
| SIMPSON | 003 |
| SONY | 001 185 085 |
| SOUNDESIGN | 028 003 043 363 |
| SOYO | 528 |
| SPECTRICON | 112 |
| SPECTRONIQ | 499 500 |
| SQUAREVIEW | 052 |
| STARLITE | 043 |
| SSS | 043 363 |
| SUPRA | 363 |
| SUPRE MACY | 002 |
| SUPREME | 001 |
| SVA | 328 |
| SYLVANIA | 197 003 052 059 060 063 064 164 044 514 333 593 |
| SYMPHONIC | 052 |
| SYNTAX OLEVIA | 432 363 144 333 |
| TANDY | 251 |
| TATUNG | 056 062 |
| TECHNICS | 034 080 |
| TECHNOL ACE | 028 |
| TECHVIEW | 557 |
| TECHWOOD | 363 |
| TEKNIKA | 002 003 024 028 043 072 363 258 |
| TELERENT | 072 |
| TERA | 172 |
| TMK | 363 |
| TNCI | 073 |
| TOSHIBA | 138 030 007 040 062 325 258 |
| TRUTECH | 529 |
| TVS | 096 |
| UNIVERSAL | 008 009 |
| VICTOR | 038 |
| VIDEO CONCEPTS | 146 |
| VIDIKRON | 174 188 164 |
| VIDTECH | 363 |
| VIEWSONIC | 242 389 |
| VIKING | 002 |
| VIORE | 472 592 |
| VISCO | 494 |
| VITO | 363 |
| VIZIO | 386 387 |
| WARDS | 008 009 019 028 060 061 063 064 072 074 164 034 363 |
| WAYCON | 015 |
| WESTINGHOUSE | 076 276 435 001 |
| WINBOOK | 339 |
| YAMAHA | 197 371 372 363 |
| YORK | 363 |
| YUPITERU | 043 |
| ZENITH | 363 073 072 095 103 |
| ZONDA | 112 |