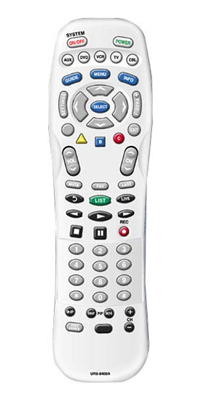 How to program Charter Universal Remote UR5 8400A:
1. Turn on your TV
Press the TV button and SELECT button simultaneously for 3 seconds. The TV LED will turn on indicating the unit is ready to be programmed.
Note : The device LED will turn on for 20 seconds. The next step must be entered while the LED is on.
 Point the remote control toward the TV and enter the three-digit code number assigned to your brand from the TV code list below.
*Tip : The equipment will turn off when the correct three-digit code number has been entered. You can verify you have selected the correct code by pressing the POWER button, the TV should turn on or turn off.
Note : If there is more than one three-digit number listed for your brand, try one code number at a time until your equipment turns off.
If the selected mode key emits a long blink, the entry is invalid. Repeat steps 2 through 3 and try entering the same code again.
Store the three-digit code number by pressing the same TV button once again. The TV LED will blink twice to confirm that the code has been stored.
Note : Try all the functions on the remote control. If any of the functions do not work as they should, repeat from Step 3 using the next three-digit code number from the same brand list.
Top TV Brands
| | |
| --- | --- |
| Samsung | 040 017 107 109 113 115 124 122 |
| LG | 004 106 119 110 112 113 127 143 |
| Sony | 001 126 139 |
| Vizio | 053, 062, 073, 095, 386, 387, 454, 502, 538, 561, 573, 607 |
All TV Brands
| | |
| --- | --- |
| ADMIRAL | 072 081 160 161 096 |
| AIKO | 103 |
| AKAI | 006 146 |
| ALARON | 028 |
| AMARK | 112 143 |
| AMERICA | ACTION 043 |
| AMPRO | 073 167 |
| ANAM | 043 054 055 056 080 112 |
| AOC | 058 006 004 112 |
| APEX | DIGITAL 225 226 |
| AUDIOVOX | 076 103 043 |
| BAYSONIC | 043 |
| BELL&HOWELL | 072 |
| BRADFORD | 043 |
| BROKSONIC | 096 212 |
| CANDLE | 006 002 003 004 |
| CAPEHART | 058 |
| CARVER | 164 |
| CELEBRITY | 001 |
| CETRONIC | 043 |
| CINERAL | 103 120 |
| CITIZEN | 006 002 003 004 101 103 143 |
| CLASSIC | 043 |
| CONCERTO | 004 |
| CONTEC | 043 051 |
| CORONADO | 143 |
| CRAIG | 043 054 028 |
| CROSLEY | 164 |
| CROWN | 043 143 |
| CURTIS MATHES | 006 004 101 143 011 072 081 120 164 |
| CXC | 043 |
| DAEWOO | 076 103 055 004 127 143 016 043 044 |
| 125 | 120 |
| DAYTRON | 004 143 |
| DENON | 011 |
| DUMONT | 004 073 |
| DWIN | 161 |
| DYNASTY | 043 |
| DYNATECH | 062 |
| ELECTROBAND | 001 |
| ELECTROHOME | 024 076 143 |
| EMERSON | 005 028 043 048 076 096 155 004 051 143 151 153 154 |
| | |
| FISHER | 007 057 |
| FUJITSU | 028 164 208 |
| FUNAI | 028 043 052 211 |
| FUTURETECH | 043 |
| GE | 006 073 130 144 160 161 004 008 009 034 056 074 091 155 081 120 |
| | |
| GIBRALTER | 004 073 |
| LG/ | 004 106 119 110 112 113 127 143 |
| GRUNPY | 028 043 |
| HALL | MARK 004 |
| HARLEY | DAVIDSON 028 164 |
| HARVARD | 043 |
| HITACHI | 163 004 007 009 011 072 010 012 023 075 143 158 |
| | |
| INFINITY | 164 |
| INKEL | 129 |
| INTEQ | 073 |
| JBL | 164 |
| JCB | 001 |
| JCPENNEY | 004 006 008 024 030 065 101 143 156 160 |
| | |
| JENSEN | 013 |
| JVC | 038 001 034 083 206 209 |
| KENWOOD | 006 001 |
| KLOSS | 002 059 |
| KTV | 006 043 143 154 |
| LODGENET | 072 |
| LOEWE | 207 |
| LOGIK | 072 |
| LUXMAN | 004 |
| LXI | 007 015 052 081 160 164 |
| MAGNAVOX | 006 003 004 022 059 060 061 063 064 |
| 127 | 164 094 160 028 |
| MAJESTIC | 072 |
| MARANTZ | 164 006 |
| MATSUI | 164 |
| MATSUSHITA | 080 |
| MEGATRON | 004 |
| MEMOREX | 004 007 072 028 096 |
| METZ | 088 |
| MGA | 024 006 004 042 |
| MIDLAND | 073 |
| MINERVA | 088 |
| MINUTZ | 008 |
| MITSUBISHI | 109 024 042 004 040 146 028 081 224 |
| MOTOROLA | 081 |
| MTC | 006 004 062 101 |
| MULTITECH | 043 |
| NAD | 015 025 |
| NEC | 006 130 134 040 056 007 019 024 215 |
| NIKEI | 043 |
| NIKKO | 103 |
| NTC | 103 |
| ONKING | 043 |
| ONWA | 043 |
| OPTIMUS | 080 |
| OPTONICA | 019 081 |
| ORION | 096 201 202 203 204 205 028 |
| PANASONIC | 034 056 080 164 219 222 127 006 003 004 024 056 059 060 063 064  143 164 |
| PHILCO | |
| | |
| PHILIPS | 164 005 038 093 127 006 003 004 059 223 |
| | |
| PIONEER | 023 025 135 176 004 018 006 216 220 |
| PORTLAND | 004 143 103 |
| PRISM | 034 |
| PROSCAN | 144 160 161 167 |
| PROTON | 004 058 143 171 173 193 112 |
| QUASAR | 034 056 |
| RADIO | SHACK 004 019 127 143 043 |
| RCA | 160 161 144 156 065 006 004 023 024 056 074 152 081 |
| | |
| REALISTIC | 007 019 |
| RUNCO | 072 169 073 130 179 180 181 |
| SAMPO | 006 004 058 |
| SAMSUNG | 004 101 127 133 143 160 089 105 217 |
| 218 | 221 |
| SANSEI | 120 |
| SANSUI | 096 |
| SANYO | 007 053 057 082 020 |
| SCOTCH | 004 |
| SCOTT | 004 005 028 043 048 143 |
| SEARS | 004 007 015 028 030 057 082 094 143 160 |
| | 052 164 |
| SELECO | 189 |
| SEMIVOX | 043 |
| SEMP | 015 |
| SHARP | 081 014 019 028 004 022 081 143 175 |
| SIGNATURE | 072 |
| SOLE | 213 214 |
| SONY | 001 126 139 |
| SOUNDESIGN | 003 004 028 043 |
| SPECTRICON | 112 |
| SQUAREVIEW | 052 |
| SSS | 004 043 |
| STARLITE | 043 |
| SUPRE | MACY 002 |
| SUPREME | 001 |
| SYLVANIA | 006 003 059 060 063 064 127 160 164 044 211 |
| | |
| SYMPHONIC | 052 211 |
| TANDY | 081 |
| TATUNG | 056 062 |
| TECHNICS | 034 080 |
| TECHNOL | ACE 028 |
| TECHWOOD | 004 |
| TEKNIKA | 002 003 004 024 028 043 072 101 143 103 164 |
| | |
| TELERENT | 072 |
| TERA | 172 |
| THOMPSON | 210 |
| TMK | 004 |
| TNCI | 073 |
| TOSHIBA | 015 030 007 040 062 101 |
| TOTEVISION | 143 |
| UNIVERSAL | 008 009 |
| VIDEO | CONCEPTS 146 |
| VIDIKRON | 174 188 164 |
| VIDTECH | 004 |
| WARDS | 004 064 164 008 009 019 028 060 061 063072 074 143 |
|  VIZIO | 053, 062, 073, 095, 386, 387, 454, 502, 538, 561, 573, 607 |
| WESTING | HOUSE 076 |
| YAMAHA | 004 006 |
| YORK | 004 |
| YUPITERU | 043 |
| ZENITH | 072 073 095 103 208 011 096 |
| ZONDA | 112 |
| ADMIRAL | 025 053 |
| AIKO | 117 |
| AIWA | 034 161 101 |
| AKAI | 043 046 124 146 |
| AMERICA | ACTION 117 |
| AMERICAN | HIGH 031 |
| AMPRO | 072 |
| ANAM | 031 103 |
| ASHA | 040 |
| AUDIO | DYNAMICS 012 023 043 |
| AUDIOVOX | 101 |
| BEAUMARK | 040 |
| BROKSONIC | 035 037 129 025 |
| CALIX | 101 |
| CANON | 028 031 |
| CAPEHART | 108 |
| CCE | 024 117 |
| CINERAL | 117 |
| CITIZEN | 101 117 |
| COLT | 024 |
| CRAIG | 003 040 135 024 101 |
| CUIRTIS | MATHES 031 041 |
| CYBERNEX | 040 |
| DAEWOO | 005 108 111 117 017 065 007 010 |
| DAYTRON | 108 |
| DBX | 012 023 043 |
| DYNATECH | 034 053 |
| ELECTROHOME | 059 101 |
| ELECTROPHONIC | 101 |
| EMERSON | 006 029 035 037 129 153 017 025 027 031 034 036 046 101 131 138 117 |
| | |
| FISHER | 003 010 008 009 |
| FUJI | 031 |
| FUNAI | 034 |
| GARRARD | 034 |
| GE | 031 072 144 147 063 107 109 040 053 |
| GO | VIDEO 132 155 040 136 |
| GOLDSTAR | / LG 101 004 012 020 |
| HARLEY | DAVIDSON 034 |
| HARMAN | KARDON 012 045 |
| HARWOOD | 024 |
| HITACHI | 004 026 034 043 063 137 150 |
| HQ | 034 |
| HUGHES | 004 |
| INSTANTREPLAY | 031 |
| JCL | 031 |
| JCPENNEY | 004 012 031 040 101 |
| JENSEN | 043 |
| JVC | 048 043 055 060 130 150 152 012 031 |
| KEC | 101 117 |
| KENWOOD | 034 150 014 048 |
| KLH | 024 |
| KODAK | 031 101 |
| LLOYD | 034 |
| LOGIK | 024 |
| LXI | 003 009 017 034 101 004 106 |
| MAGIN | 040 |
| MAGNASONIC | 117 |
| MAGNAVOX | 067 031 034 068 041 156 170 |
| MARANTZ | 067 069 012 031 |
| MARTA | 101 |
| MATSUI | 027 030 |
| MATSUSHITA | 031 |
| MEI | 031 |
| MEMOREX | 040 101 003 014 031 034 053 072 134 139 025 025 |
| | |
| MGA | 045 046 059 |
| MGN | TECHNOLOGY 040 |
| MINOLTA | 004 020 |
| MITSUBISHI | 059 061 051 004 046 020 045 053 |
| MOTOROLA | 031 053 |
| MTC | 034 040 |
| MULTITECH | 024 034 |
| NEC | 012 023 043 048 |
| NIKKO | 101 |
| NOBLEX | 040 |
| NORDMENDE | 043 |
| OLYMPUS | 031 |
| OPTIMUS | 053 101 |
| OPTONICA | 053 054 |
| ORION | 025 |
| PANASONIC | 031 070 133 140 163 |
| PENTAX | 004 031 063 020 |
| PHILCO | 031 034 067 025 |
| PHILIPS | 031 034 054 067 101 150 |
| PILOT | 101 |
| PIONEER | 021 004 048 |
| PORTLAND | 108 |
| PROFITRONIC | 040 |
| PROTEC | 024 |
| PULSAR | 072 |
| QUARTZ | 014 |
| QUASAR | 031 070 133 140 163 014 |
| RADIO | SHACK 123 034 |
| RADIX | 101 |
| RANDEX | 101 |
| RCA | 107 109 144 041 031 004 020 034 040 |
| 140 | 147 158 053 |
| REALISTIC | 003 008 014 031 034 040 053 054 101 |
| 010 | |
| RICO | 058 |
| RUNCO | 072 |
| SALORA | 014 |
| SAMSUNG | 040 017 107 109 113 115 124 122 |
| SANKY | 053 |
| SANSUI | 043 135 048 025 034 |
| SANYO | 003 014 040 134 |
| SCOTT | 017 037 129 131 |
| SEARS | 003 004 008 014 017 081 101 010 031 |
| 034 | |
| SHARP | 053 031 054 159 |
| SHINTOM | 024 |
| SHOGUN | 040 |
| SINGER | 024 |
| SONY | 001 057 058 003 052 053 031 154 171 |
| 009 | 034 |
| SOUNDESIGN | 034 |
| STS | 004 |
| SYLVANIA | 031 034 059 067 |
| SYMPHONIC | 034 |
| TANDY | 034 010 |
| TATUNG | 043 |
| TEAC | 034 043 |
| TECHNICS | 031 070 |
| TEKNIKA | 031 034 101 |
| THOMAS | 034 |
| TMK | 006 040 |
| TOSHIBA | 017 131 004 008 059 082 150 |
| TOTEVISION | 040 101 |
| UNITECH | 040 |
| VECTOR | RESEARCH 012 |
| VIDEO | CONCEPTS 012 034 046 |
| VIDEOSONIC | 040 |
| WARDS | 003 004 017 024 031 034 040 053 054 |
| 131 | |
| WESTINGHOUSE | 024 025 |
| XR-1000 | 024 031 034 |
| YAMAHA | 012 034 043 |
| ZENITH | 072 034 001 058 080 101 153 048 025 |