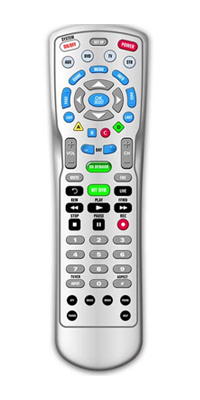 How to program Verizon OCAP-4 ™ Remote:
1. Turn on your TV
NOTE: Please read steps 2 through 4 completely before proceeding.
Write down the codes and device you wish to program
before moving on to step 2. 
 On the remote control, press a TV key once  it will blink once. Then press and hold SET UP until the TV mode key blinks twice.
Use the Setup Codes below to locate the type of device and brand name and then enter the first five-digit code for your device. If performed correctly, the selected mode key blinks twice.
NOTE: If the selected mode key emits a long blink, the entry is invalid. Repeat steps 2 through 3 and try entering the same code again.
Point the remote at the TV and press the Power button. If your TV turned off, you have successfully programmed your remote. If TV did not turn of repeat steps 2-4 with next code for your TV brand.
Top TV Brands
| | |
| --- | --- |
| Samsung | 10812, 10060, 10702, 10178, 10650,10766,10814, 11060, 11903, 12051,10766,10814, 11060, 11903, 12051 |
| LG | 11423, 10017, 11265, 10178, 10700,10856,11178, 11768, 11993, 12358,12424 |
| Sony | 10000, 10810, 10834, 11317, 11685 |
| Vizio | 11758, 10864, 10885, 11756 |
All TV Brands
| | |
| --- | --- |
| Admiral | 10093, 10463 |
| Advent | 10761, 10783, 10815, 10817, 10842,11933 |
| Akai | 10812, 11675, 10702, 10672, 11207,1190311935, 12232 |
| Albatron Action | 10700, 10843 |
| America Action | 10180 |
| Anam | 10180 |
| AOC | 11365, 11589, 11590, 12014, 12087,12402 |
| Aomni | 11623 |
| Apex Digital | 10156, 10748, 10879, 10765, 10767,10890,11217, 11991, 12397 |
| Astar | 11531, 11738 |
| Audiovox | 10451, 10180, 10623, 10802, 10846,10875,11284, 11937, 11951, 11952 |
| Aventura | 10171 |
| Axion | 11937 |
| BenQ | 11032, 11315 |
| Bradford | 10180 |
| Broksonic | 10236, 10463, 11935 |
| Carver | 10054 |
| Celebrity | 10000 |
| Celera | 10765 |
| Changhong | 10765 |
| Citizen | 10060, 11671, 11672, 11935 |
| Clarion | 10180 |
| Coby | 11538, 11634, 12306, 12314, 12315, |
| Commercial Solutions | 11447, 10047 |
| Contec | 10180 |
| Craig | 10180 |
| Crosley | 10000, 10054 |
| Crown | 10180 |
| Curtis | 12352, 12466 |
| Curtis Mathes | 10047, 10054, 10451, 10093, 10060, |
| CXC | 10180 |
| Daewoo | 10451, 11661, 10623, 10661, 10672 |
| Dell | 11264, 11080, 11178, 11403, 11863 |
| Denon | 10145 |
| Digital Lifestyles | 11765 |
| DirecTV | 11501 |
| Dish Network | 11948 |
| Disney | 12152 |
| Dumont | 10017 |
| Durabrand | 10463, 10180, 10178, 10171, 11034 |
| Dynex | 11463, 11780, 11785, 11810, 12049, |
| Electroband | 10000 |
| Electrograph | 11755, 11623 |
| Electrohome | 10463, 11670, 11672 |
| Element | 11687, 12183 |
| Emerson | 11864, 10017, 10451, 10236, 10463, |
| Emprex | 11422, 11546, 11765 |
| Envision | 10813, 11365, 11589, 12014, 12087 |
| Epson | 10833 |
| ESA | 10812, 10171, 11944, 11963 |
| Fujitsu | 10809, 10683, 10853 |
| Funai | 10000, 10180, 10171, 11271, 11963 |
| Futuretech | 10180 |
| Gateway | 11755, 11756 |
| GE | 11447, 10047, 10051, 10451, 10178, |
| GFM | 10171, 11963, 12167 |
| Gibralter | 10017 |
| Go Video | 10886 |
| GoldStar | 10178 |
| Grundig | 10683 |
| Grunpy | 10180 |
| Haier | 11034, 11748, 11749, 11753, 12309 |
| Hallmark | 10178 |
| Hanns.G | 11783 |
| Hannspree | 11348, 11351, 11745, 11783 |
| Harman/Kardon | 10054 |
| Harsper | 11206 |
| Harvard | 10180 |
| Havermy | 10093 |
| Helios | 10865 |
| Hello Kitty | 10451 |
| Hewlett Packard | 11494, 11502 |
| Hisense | 10748, 11314, 11660, 12098, 12355, |
| Hitachi | 11643, 11145, 10145, 10797, 11960 |
| HP | 11494, 11502 |
| Humax | 11501 |
| Hyundai | 10849 |
| iLo | 11286, 11603, 11684, 11990 |
| Infinity | 10054 |
| InFocus | 12199 |
| Initial | 11603, 11990 |
| Insignia | 11423, 11564, 10171, 11204, 11517,11641,11660, 11710, 11780, 11892,12002, 12049, 12088, 12417 |
| IX | 10877 |
| JBL | 10054 |
| JCB | 10000 |
| Jensen | 10761, 10815, 10817, 11933 |
| JVC | 10463, 10053, 10650, 10731, 11253,11601,11774, 12271 |
| KDS | 11498, 11687 |
| KEC | 10180 |
| KLH | 10765, 10767 |
| KTV | 10180 |
| LG | 11423, 10017, 11265, 10178, 10700,10856,11178, 11768, 11993, 12358,12424 |
| LXI | 10047, 10054, 10156, 10178 |
| MAG | 11498, 11687 |
| Magnavox | 11454, 11866, 10054, 10051, 10706,10802,11198, 11254, 11365, 11856,11963, 11990, 12372 |
| Marantz | 11454, 10054, 10704, 10855, 11154,12447 |
| Matsushita | 10250, 10650 |
| Maxent | 11755, 11714 |
| Megapower | 10700 |
| Megatron | 10178, 10145 |
| Memorex | 10463, 10150, 10178, 10877, 11670,11892,11903 |
| MGA | 10150, 10178 |
| Midland | 10047, 10017, 10051 |
| Mintek | 11603, 11990 |
| Mitsubishi | 11250, 10093, 10150, 10178, 10836, |
| 10868, | 12010 |
| Monivision | 10700, 10843 |
| Motorola | 10093, 10835 |
| Moxell | 10835 |
| MTC | 10060 |
| Multitech | 10180 |
| NAD | 10156, 10178, 10866, 11156 |
| NEC | 10704, 10882, 11704, 11797 |
| NetTV | 11755 |
| Nexus | Electronics 12183 |
| Nikko | 10178 |
| Norcent | 10748, 10824, 11365, 11589, 11590, |
| 12110 | |
| Norwood | Micro 11286 |
| NuVision | 11657, 12158 |
| Olevia | 11610, 11144, 11240, 11331 |
| Onwa | 10180 |
| Optimus | 10250, 10166, 10650 |
| Optoma | 11348, 12161 |
| Optonica | 10093 |
| Orion | 10236, 10463, 11463 |
| Panasonic | 10250, 11480, 11457, 10051, 10650,11271,11291, 11410, 11941, 11946 |
| PARK | 12104 |
| Penney | 10047, 10156, 10051, 10060, 10178, |
| 11347 | |
| Petters | 11523 |
| Philco | 10054, 10171, 11271, 11394, 11963 |
| Philips | 11454, 11866, 10054, 10690, 11154,11744,11806, 11856, 11867, 12372,12374 |
| Pioneer | 11457, 10166, 10679, 10866, 11260 |
| Planar | 11496 |
| Polaroid | 11523, 10765, 12425, 12121, 12120,12119,12063, 12002, 11991, 11766,11538, 11498, 11341, 11314,11286,11276, 10865 |
| Portland | 10451, 11661 |
| Prima | 10761, 10783, 10815, 10817, 11785 |
| Princeton | 10700 |
| Prism | 10051 |
| Proscan | 11447, 10047, 11347, 12147, 12256 |
| Proton | 10178 |
| Protron | 11320 |
| Proview | 10835, 11401, 11498, 11687 |
| Pulsar | 10017 |
| Puneet | 11546 |
| Quasar | 10250, 10051, 10650 |
| RadioShack | 10047, 10180, 10178 |
| RCA | 11547, 11447, 10047, 10051, 10093,10679,11047, 11147, 11247, 11347,11781,11948, 11953, 11958, 12002,12247, 12434 |
| Realistic | 10180, 10178 |
| RevolutionHD | 11623 |
| Runco | 10017, 11629 |
| Sampo | 11755 |
| Samsung | 10812, 10060, 10702, 10178, 10650,10766,10814, 11060, 11903, 12051,10766,10814, 11060, 11903, 12051 |
| Sansui | 10463, 10171, 11409, 11670, 11892 |
| Sanyo | 10054, 11142, 12448 |
| Sceptre | 10878, 11217, 11360, 11599 |
| Scotch | 10178 |
| Scott | 10236, 10180, 10178, 11711 |
| Sears | 10047, 10054, 10156, 10178, 10171 |
| Seleco | 11351 |
| Sharp | 10818, 10093, 10688, 10851, 11602,12360 |
| Sheng | Chia 10093 |
| Sherwood | 11399 |
| Sole | 11623 |
| Sony | 10000, 10810, 10834, 11317, 11685 |
| Soundesign | 10180, 10178 |
| Sova | 11320, 11952 |
| Soyo | 11520, 11546, 11826, 11828 |
| Spectroniq | 11498, 11687 |
| Squareview | 10171 |
| SSS | 10180 |
| Starlite | 10180 |
| Studio | Experience 10843 |
| SunBrite | 11420, 12337 |
| Superscan | 10093, 10864, 11944 |
| Supreme | 10000 |
| SVA | 10748, 10865, 10870, 11963 |
| Sylvania | 11864, 10054, 10171, 11271, 11314, |
| 11394, | 11886, 11944, 11963 |
| Symphonic | 10180, 10171, 11944 |
| Syntax | 11610, 11144, 11240, 11331 |
| Tandy | 10093 |
| Tatung | 11286, 11756 |
| Technics | 10250, 10051 |
| Techview | 10847 |
| Techwood | 10051 |
| Teknika | 10054, 10180, 10150, 10060 |
| Telefunken | 10702 |
| TMK | 10178 |
| TNCi | 10017 |
| Toshiba | 11524, 10156, 11256, 11265, 10060,10650,10822, 10832, 10845, 11156,11656, 11704, 11935, 11945,11356,12006 |
| TruTech | 11723, 12066 |
| TVS | 10463 |
| US | Logic 11286 |
| Venturer | 11865 |
| Victor | 10053 |
| Vidikron | 10054, 11629 |
| Vidtech | 10178 |
| Viewsonic | 11755, 10797, 10857, 10864, 10885, |
| Viore | 11207, 11684, 11811, 12104, 12352 |
| Vizio | 11758, 10864, 10885, 11756 |
| Wards | 10054, 10178, 10866, 11156 |
| Waycon | 10156 |
| Westinghouse | 11712, 10451, 10885, 10889, 10890,11282,11300, 11577, 12293 |
| WhiteWestinghouse | 10463, 11661, 10623 |
| Wyse | 11365 |
| Yamaha | 10769, 10797, 10833 |
| Zenith | 10000, 11423, 10047, 10017, 10463, |